Music Therapy Bedfordshire is a team of qualified and experienced therapists, who offer Music Therapy to both children and adults in and around Bedfordshire.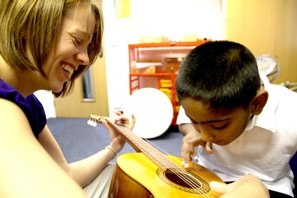 Music Therapy Bedfordshire was established in May 2011, when reductions were made to the Local Authority Music Therapy Team. All founder members of Music Therapy Bedfordshire were part of this nationally recognised and well established service which provided Music Therapy to Bedfordshire mainstream and special schools for more than 25 years. Music Therapy Bedfordshire extended its service to adults across the county.
Music Therapy Bedfordshire has maintained an excellent reputation with schools, allied health professionals, parents and carers, and provides a unique, diverse and quality-assured service, developed through evidence-based practice.
"I would suggest that [without Music Therapy] this young lady may not have gained such great social awareness and development of vocalisation with such intention and emotion, enabling her communication to he heard and understood . Testimony to Music Therapy Beds!" Teacher of pupil with profound and multiple learning disabilities

Follow @MTBedfordshire